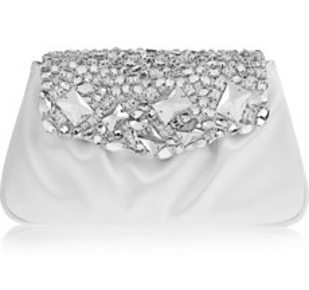 Cluth bag, always a favorite accessory of women to support the appearance at the party. On top of any runway, the designers do not miss the world show off a collection of luxury clutch bag pretty new to collections Spring / Summer 2011. Therefore, it would not hurt you too have a bag of this type. Here are five references clutch bag fashion houses the world's output, to complement your display to a party perfection.
1. Swarovski crystal embellished satin clutch Yves Saint Laurent
This exclusive clutch bag can be your luxurious investment. The combination of off white satin and Swarovski crystal ornaments suitable to attend a formal party. Although small, the output bag Yves Saint Laurent actually have space large enough so that it can contain a variety of your luggage to the party. This bag you can have a price of USD 16 million.
2. Broadway silk satin Gucci clutch
Gucci clutch bag output is simple and elegant design. Made from silk and black, very fitting for the party events. This model is impressive but still displays the elegance of simplicity. Clutch bag is sold at Rp 8.8 million.
3. Marano glitter finish leather clutch is Anya Hindmarch
Blend of pink glitter on the surface of clutch bag can make you look more glamorous. Match this cute bag with a simple dress. Anya Hindmarch collection is suitable for those who dare to be different and always wanted the forefront of fashion. Interested in this clutch bag? Get a price of Rp 4.1.
4. Crystal embellished satin clutch Judith Leiber
Obviously this clutch bag can make regular appearances to be special. A sprinkling of crystals on this tiny bag can make a simple dress look so luxurious. Interested in buying this beautiful bag? The domain net-a-porter sells these bags costing £ 1246 or about USD 17 million.
5. Zeta Jimmy Choo metallic glitter finish
Clutch bag is shiny metallic color is very easy to steal people's attention. This glamorous touch of you can feel with a collection of the latest Jimmy Choo clutch bag. Give the feel of luxury to your outfit while attending a party. Clutch bag is sold at Rp 3.3 million.