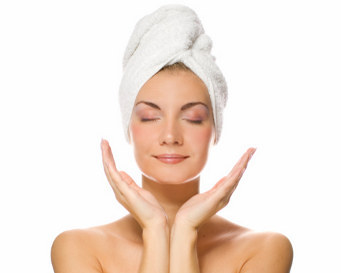 Having beautiful skin, clean, smooth and shining is the dream of every woman. But to get all that you must follow the rules of good skin care.
Here are five tips that choice can be done to get that beautiful skin, as quoted from Ourvanity.
1. Exfoliate dead skin cells
Peel off dead skin cells or Exfoliate is a great way to make skin more radiant and clean. Skin exfoliation is an important step skin care, because if you only wash your face with soap, dead skin cells are not completely lifted.
Do exfoliate regularly in the morning, the way to use a soft brush and still dry, then rub it slowly throughout your body. Do at least three times a week. This procedure will promote blood circulation and removes dead skin cells so your skin looks fresh.
2. Digestion with White Water embarked
It has been proven that beautiful skin is the result of the digestive system a good job. Lack of drinking water is one reason why sometimes digestion is not going well.
It is therefore recommended for women to consume water at least 8 glasses a day or not less than 3 liters per day. The benefits of drinking water that is capable of removing toxins and the rest of the body's metabolism so that maintain skin moisture and makes skin look healthy and bright.
3. Exercising In Routine
Regular exercise can make the body and skin healthy. Try to use your free time to exercise, at least every morning jog for 15 minutes.
4. Do Excessive Consumption of Sweet Foods
Eating foods that contain lots of sugar is extremely harmful to the body and skin. Because it can cause premature aging of the skin. Therefore, reduce the consumption of foods high in sugar.
5. Healthy Fats
Foods that contain fatty acids are necessary for health and body activity. Some examples of foods that contain unsaturated fatty acids are salmon, tuna, mackerel fish, mackarel, sardines and fish from the deep sea. Try to consume foods that contain fatty acids for healthy skin.