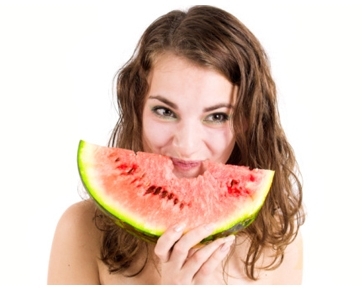 The body is tired and lack of sleep can be easily seen from the emission face. A dull face and looked tired certainly less interesting to look at. Immediately return the freshness of your skin in a flash, with a few options this natural mask, as quoted from becomegorgeous.
Watermelon mask
According to nutrition experts, as reported by the Health, watermelon contains 99% water that are useful refreshing facial complexion. Use this mask twice a week to soothe facial redness and summarize the pores. The trick, mix two tablespoons of lime juice with a teaspoon of honey and two tablespoons of the watermelon juice. Then apply on face after cleansing and leave on for 15-20 minutes. Then rinse using warm water and apply moisturizer.
Mask Aloe Vera and Mango
Use aloe vera and mango mask after a day under the sun. This mixture can soothe and cleanse skin pores deeply.
Prepare two tablespoons of chopped mango fruit, one cup of aloe vera gel, one teaspoon honey and one teaspoon of lemon juice. Then use a blender combine all ingredients. After getting the texture with the right consistency, apply the facial skin. Let stand for 30 minutes, then rinse with cold water. Do this treatment once a week.
Turmeric Masks
Turmeric can get rid of dead skin cells, prevent skin damage from free radicals as well as brighten the complexion of the face. Make a mask using a mixture of turmeric, two tablespoons of turmeric powder, four teaspoons of sugar and two teaspoons of yogurt. Apply the mixture to the face while a light massage with circular movements. This method helps the nutrients from these materials absorbed completely into the skin. Apply for 10 minutes, then clean the mask with warm towels.
Yogurt and Oatmeal Mask
This mask is suitable for all skin types. Its function is to get rid of dead skin cells, and refresh dull skin complexion because of fatigue. How to make it pretty easy. Mix one tablespoon of oatmeal, a teaspoon of yogurt without taste and a few drops of honey. Apply on face, leave on for 10 minutes, then rinse with warm water. In addition to refreshing the face, this mask also helps keep the skin from acne.