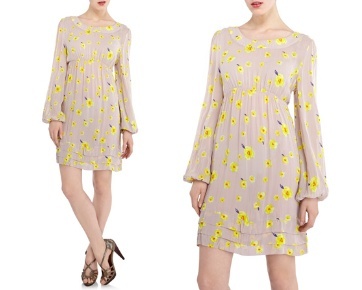 The summer is always identical with berpalet bright costumes. But for those who do not dare to wear bright colors and flashy, pastel-colored clothing can be an alternative that is not less special.
When wearing a dress with pastel colors, you will get an impression of sweet and innocent. But so as not to look pale, choose a pastel-colored dress with a bright detail or motive.
Examples such as mini-canal from the Oasis brand. With a soft khaki color basis, it appears more cheerful canal with a small floral bright yellow. Pieces empire-line and bell sleeves make this canal stylish look with shades of retro-style '60s.
The advantages of the canal which is called 'Lemon Print Tunic', can be used as casual or formal event to attend. Combine this canal with a shoe wedges and brown mini sling bag for a walk to relax. For a more glamorous look, do not hesitate to pair them with a large necklace and platform shoes.
Canal made 100 percent of viscose material can be obtained through the official site oasis-stores.com with price 48 pounds or approximately Rp. 660 thousands. Or you can also get them at some department stores like Debenhams, Metro and Centro.